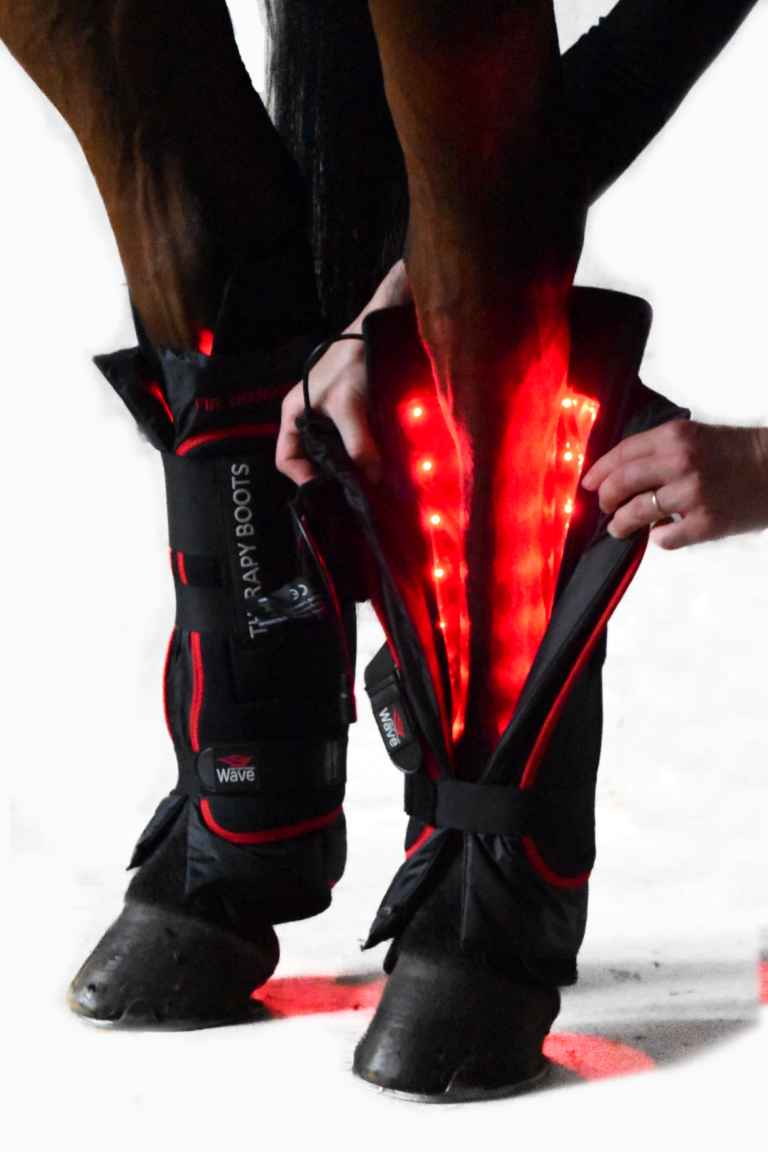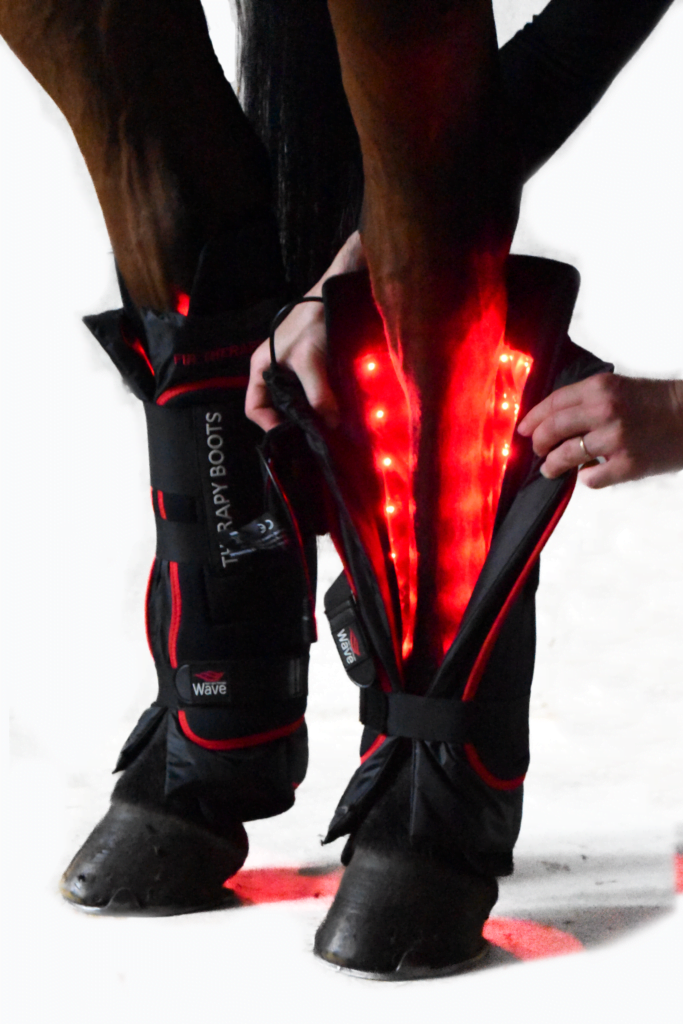 New breakthrough light therapy system developed by the people behind Cavaleros
Danish entrepreneurs are behind pioneering light therapy for horses and even the vet had to bow down: "It works!"
10.8.2022 12:20:21 CEST
Light therapy has long been a medically approved treatment for both humans and animals in the US, but has only in the last few years begun to be recognised in Denmark. The technology strengthens cell renewal and speeds up the healing process.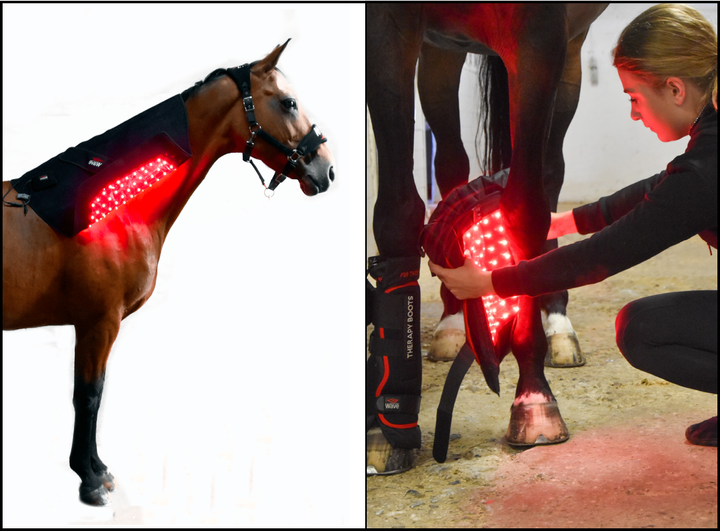 Cavalero founder Lars Kejser (48) and chief designer Mette Ringkjøbing (45) have once again taken the equestrian world by storm – this time with their light therapy brand, Wave Red Light Therapy, for horses.
Eva Götzsche, who runs the Straight Horse stud and has competed in dressage up to and including Prix St. George, has had great success with this light therapy.
"For me, Wave Red Light Therapy has resulted in a faster healing of a tendon injury in my horse", Eva Gøtzsche says, "I was told that the tendon injury would take at least 6 months to heal, but after three months it was completely healed. That's when my vet had to bow down and say it works, even though she didn't believe it at first."
Also gallop trainer Rikke Rohbach Bonde, who has appeared in the TV2 documentary 'Højt til Hest', has had good experiences with Wave Red Light Therapy.
"I use their light therapy every day – mainly for injured or challenged horses. Especially in areas where we also have treatments done by a vet, so we can keep the treatment going ourselves", says Rikke Rohbach Bonde.
Wave RLT light therapy speeds up the healing process by increasing the transport of oxygen and nutrients to the affected area. At the same time, it stimulates the production of collagen, an important protein in the body that helps replace and repair damaged tissues and cells. Light therapy works particularly well for sprains, fibroblasts and psoriasis.
Great flexibility
Light therapy is typically done using large stationary lamps, but as Mette Ringkjøbing herself points out, it's difficult to get an animal to stay still long enough for the light therapy to work. It is this, among other things, that has led her and founder Lars Kejser to create their innovative and flexible system.
In close collaboration with their manufacturer and engineers, founder Lars Kejser and chief designer Mette Ringkjøbing have moved away from stationary lamps and instead developed a series of pads that can be put directly on the horse. The pads come in different sizes and are available for the back, neck, legs and hooves, for example. The pads have straps so they can easily be put on the horse, leaving owners free to do other things while they're at it.
"There is almost no place where you can't use our Wave RLT products", says Mette Ringkjøbing, "You can bend the product in any direction, which makes it easy to attach to the horse".
Uses the latest technology
To come up with this innovative system, founder Lars Kejser and chief designer Mette Ringkjøbing had to go through a long journey with many tests and optimisations.
"The light therapy we have today looks nothing like some of the early samples. The product has changed its appearance along the way and has been improved and optimised", says Mette Ringkjøbing, "So we are fully up to date all the time, to be able to give customers the best product".
Wave Red Light Therapy's pads run on batteries that can last up to 6-7 hours per charge. Chief designer Mette Ringkjøbing knew it would give users greater flexibility if they didn't have to rely on the pads being plugged into a socket.
Easy and user-friendly system
Unlike laser therapy, which must be administered by a veterinarian, this type of light therapy can be used by anyone. This gives horse owners the opportunity to treat their animals themselves against, for example, tendon injuries and wounds.
"Their horses are their dearest possession", says founder Lars kejser, to which Mette Ringkjøbing adds: "So if they can do something for their animals, it means a lot. At the same time, you also feel an effect if you try the light therapy on yourself."
For example, show jumping trainer Rikke Rohbach Bonde has not only had good experiences using Wave Red Light Therapy on her horses, but also on herself.
"I also use Wave Red Light Therapy on myself and I can definitely feel it working. I use it especially on my lower back and neck. If you've been unlucky enough to fall off a horse or something, I use it there too," says Rikke Rohbach Bonde.
Based on their great success with light therapy for horses, Cavaleros has therefore also developed the Wave RLT Pen 2.0, which is also light therapy for both animals and humans. This light therapy penetrates deep into the tissue and is intended for acute or chronic conditions.
https://via.ritzau.dk/pressemeddelelse/danske-ivaerksaettere-star-bag-banebrydende-lysterapi-for-heste-og-selv-dyrlaegen-matte-boje-sig-det-virker?publisherId=13560406&releaseId=13656510