Become part of Team Cavaleros
Do you want to be part of Team Cavaleros and create valuable content that motivates and inspires on your social channels?
We work closely with the influencers who are part of our team rider programme. We believe that the best collaboration is one that creates value for both parties.
If you are interested in being part of Team Cavaleros and representing Cavaleros on your social channels in Denmark, Norway or Sweden, please feel free to send us an email at sponsor@cavaleros.dk. Please write a little about yourself and how you see us as a match, and refer to your profile(s).
As a Team Rider, you must meet the following requirements:
Have a profile with at least 7000 followers
Create frequent content and interact with your followers
Riding and/or an active life with horses is a big part of your content
You are at least 18 years old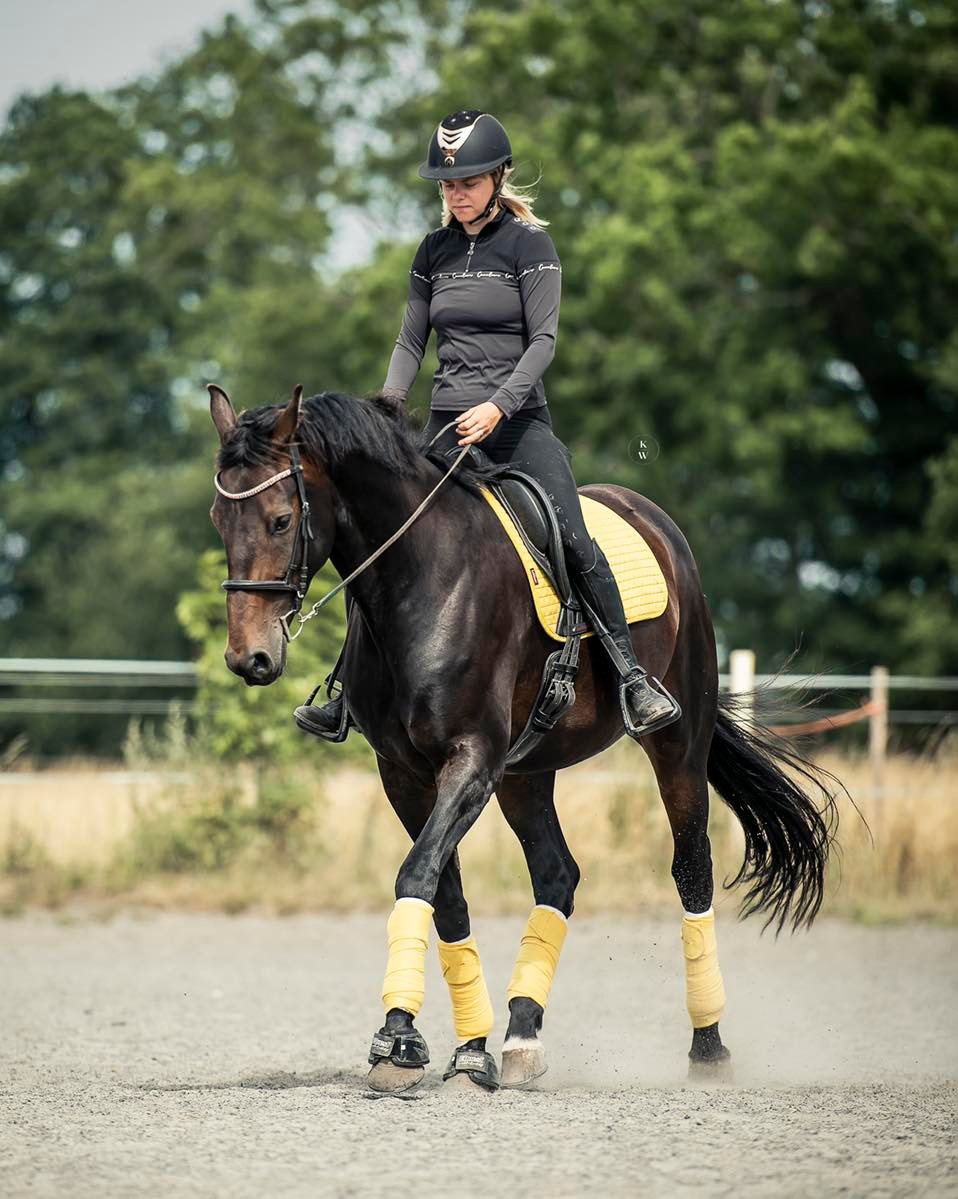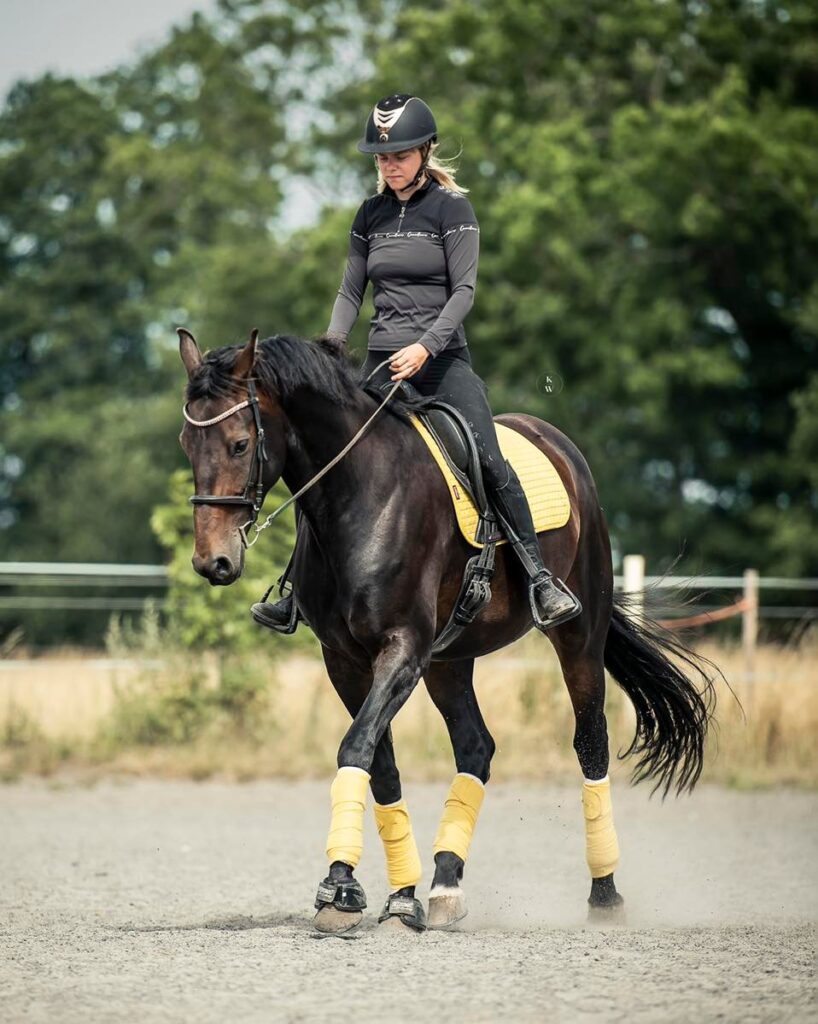 Camilla Stormont – Horse trainer
My name is Camilla Stormont, I was born in 1991 and I have a huge passion for horses.
I got my first horse from my mother in 1994. I started out as a traditional dressage & show jumping rider, but as the years went by, words like "horsemanship" and "problem horses" began to fill more of my daily life.
I am a trained Horse Behaviorist and in Equine Science.
Among other things, I have worked at Nyt Hesteliv with neglected horses that deserved a helping hand.
I have been self-employed since 2009, and have been living from my passion since 2012.
Horses are undoubtedly my greatest passion and I look forward to going to work every day when I wake up.
In my life with horses, I have had hundreds of horses in my hands, so I know that each horse is unique.
_____
I believe that no two horses are the same, and I think that the mistake starts when we start thinking we can put all horses into the same method or "box". I am very interested in science, and my methods are therefore also based on anatomy, learning theory, behavioural psychology, biomechanics, etc.
I use a good variety of exercises, depending on the individual horse
A big fan of clicker training, and other methods that help motivate the horse to – not just work – but to be happy about it.
Since 2016 I have had my own place, and in 2019 I had to move to a larger place near Odense, where I now have both horsemanship school, training horses, rehabilitation horses, own horses and stallholders.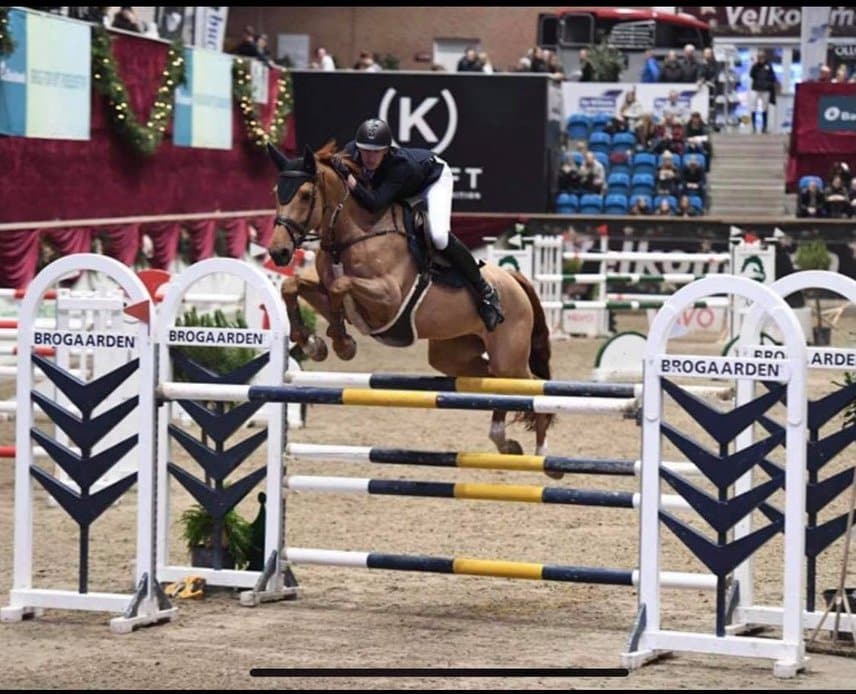 Claus Hundebøl – Int. jumper
I was born in 1996, and I am a show jumper at international level. Daily I ride 4-6 horses, everything from the completely inexperienced to the experienced ma-s horses!
Cashmere lady who is the horse I have ridden the most! We have placed 4th in the csi* finals at the 2019 World Cup, and numerous placings at national competitions, up to and including 135cm.
Landlyst Contra is a 7 year old mare who is my next big star! As a 6-7 year old she placed at csi competitions, and in 2020 placed 5th at dm with the rest of the team. The plan is to debut in S 2021! She is the sister of my first S horse Calina, who unfortunately is not in the sport anymore.
My favorite riding pants from Cavaleros is definitely "Fuego Men"!! I've had my first pair for a year and the grip still stays supple and they are super comfortable to wear EVEN after washing! Cavaleros for me is top quality at fair prices! And the service is top notch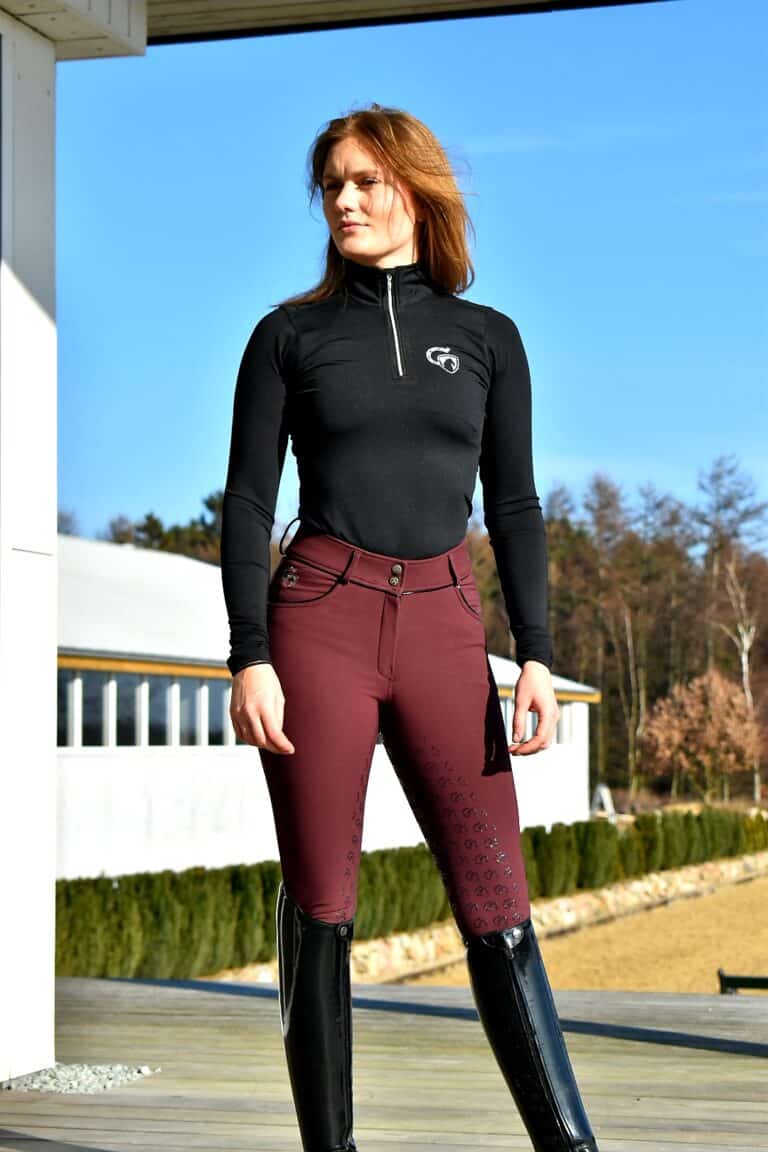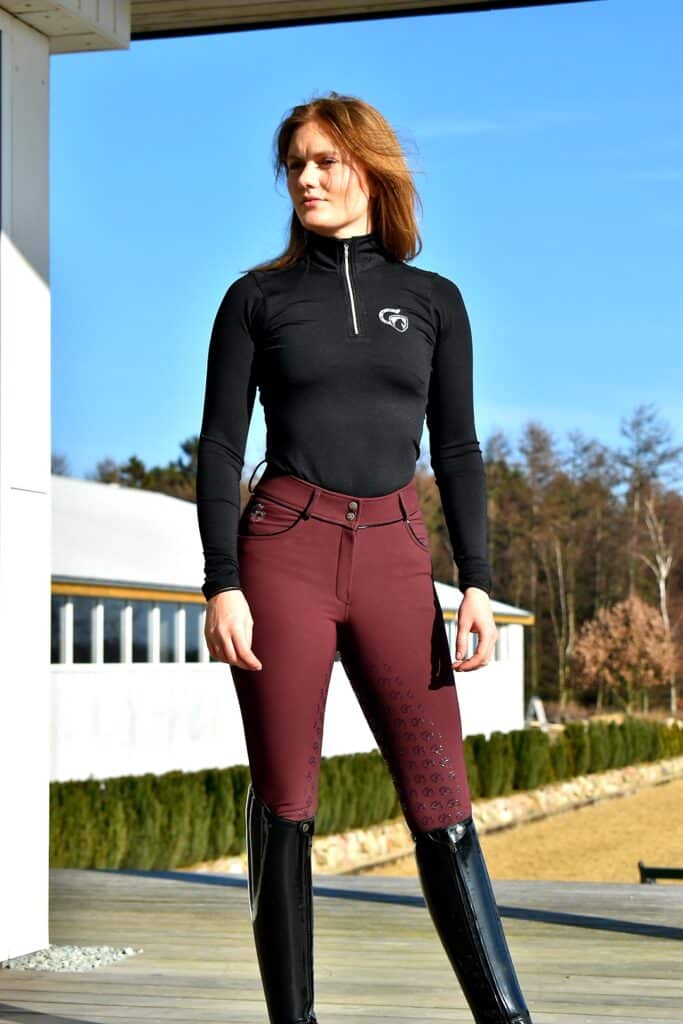 Pernille Teidor Olesen
I am 27 years old and have been riding in Cavaleros since 2018.
Has previously been part of the u18, u21 and u25 national teams. Now I have with my mother and father a small stable in Fredensborg, where I work with my mother and we have some horses together. Love teaching the art of dressage and helping the next riders to come.
Cavaleros surprised me a lot the first time I sat in them, was very skeptical about grip as I had tried other grip pants where the grip became slippery after use. Cavaleros keep on keeping on! Even in my oldest trousers, I still have a great connection to my saddle. Helped and supported by Cavalero's grip but also to a great extent by their lumbar support. Both when riding they help to support my lower back and also when standing/walking and teaching, I don't get tired or sore after the long hours in the sandbox.
Love that Cavaleros have a sporty look and always use breathable and stretchy materials, so you get a great figure and quickly get rid of the heat and sweat. It's so nice to be able to jump off a horse and start teaching without your clothes being wet and cold after a workout, which I each greatly appreciate.
I have recommended Cavaleros to many people and they have not disappointed, on the contrary.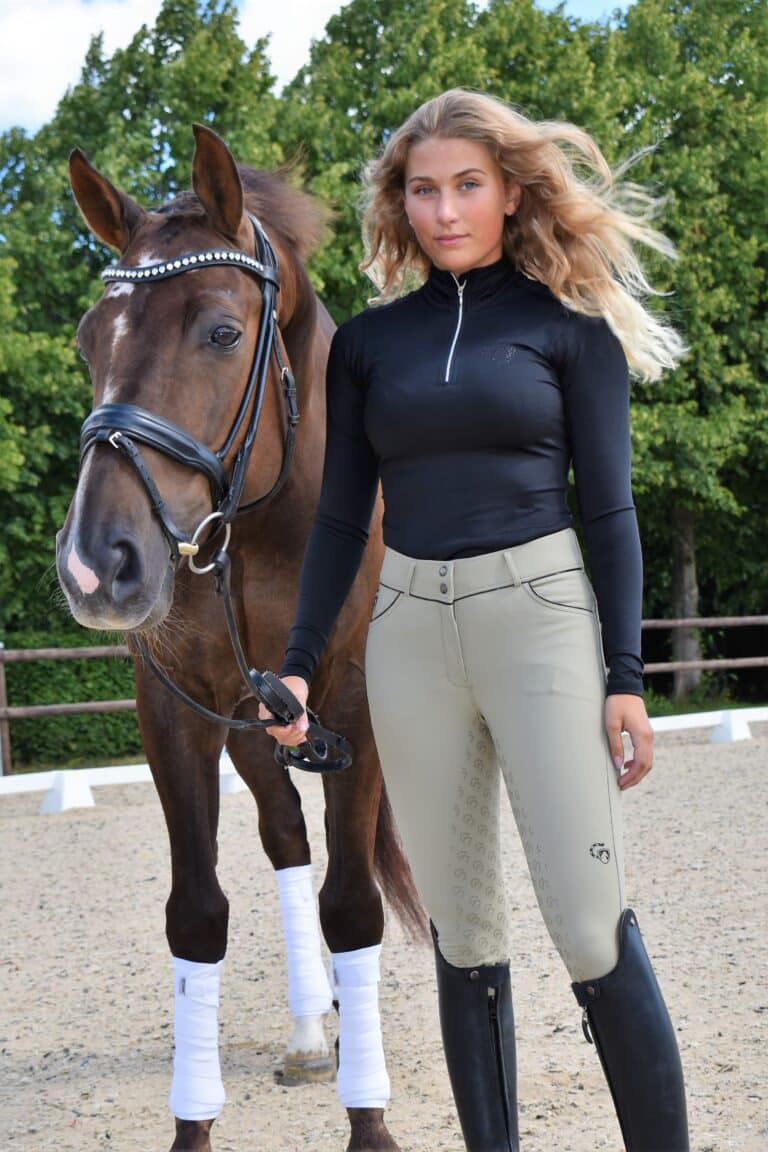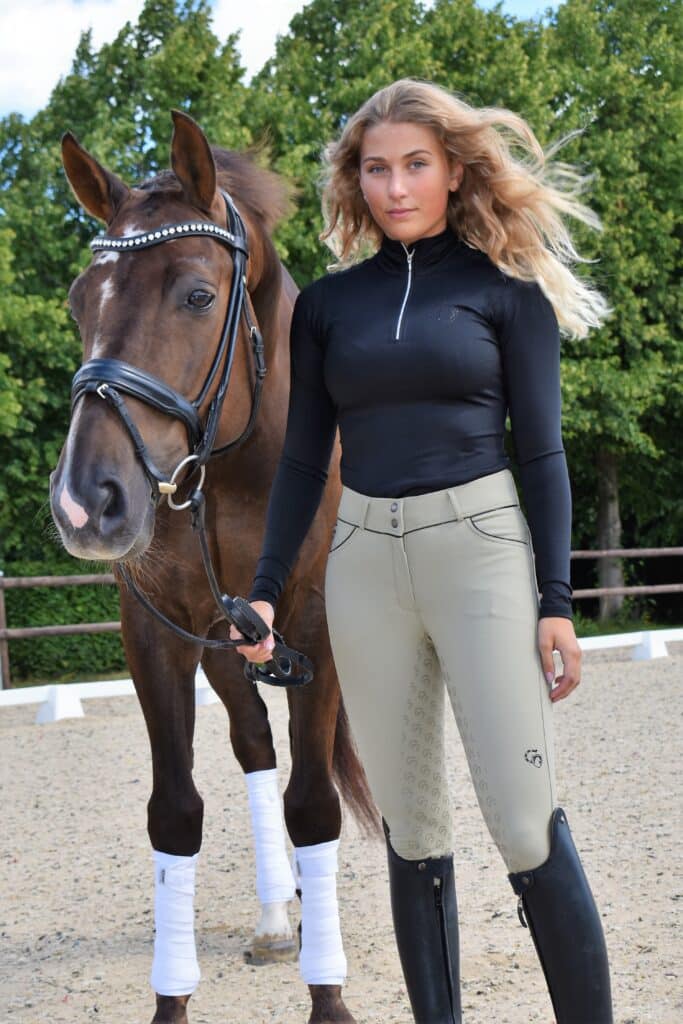 Sandra Gudesen Dressage rider
My name is Sandra Gudesen and I have been riding since I was 5 years old. I have had 3 ponies in total and in October 2020 I got my first horse. In my last 2 pony years I rode nationally with my pony Præstegaardens Amazing Coco. I had Coco for 3.5 years. On Coco I became the winner of the Sjællandsmesterskabet 2019, winner of the DM for Team 2019, winner of two district championships, advanced to the finals of the Ecco Cup 2019 and then we became A team. I hope to continue the adventure on my horse Domino. I am extremely happy with Cavaleros, especially the support of the riding pants in the lower back. Also, my favorite model is Enigma Dressage because I love the sparkle details."
Sandra also helps us with photo shoots – here she is with the Olympic horse Davidoff.
Sandra wears her favourite trousers – Enigma Dressage in Beige.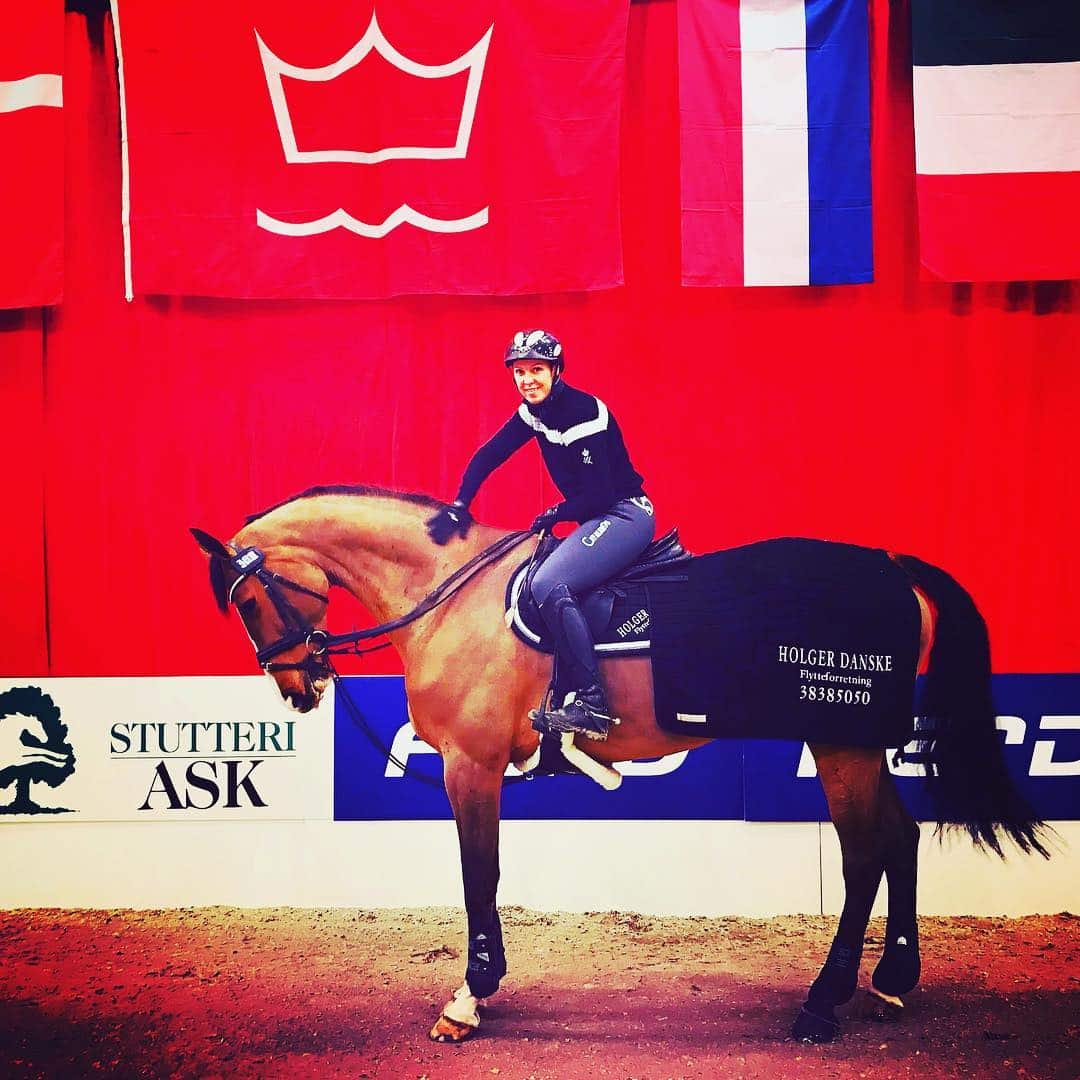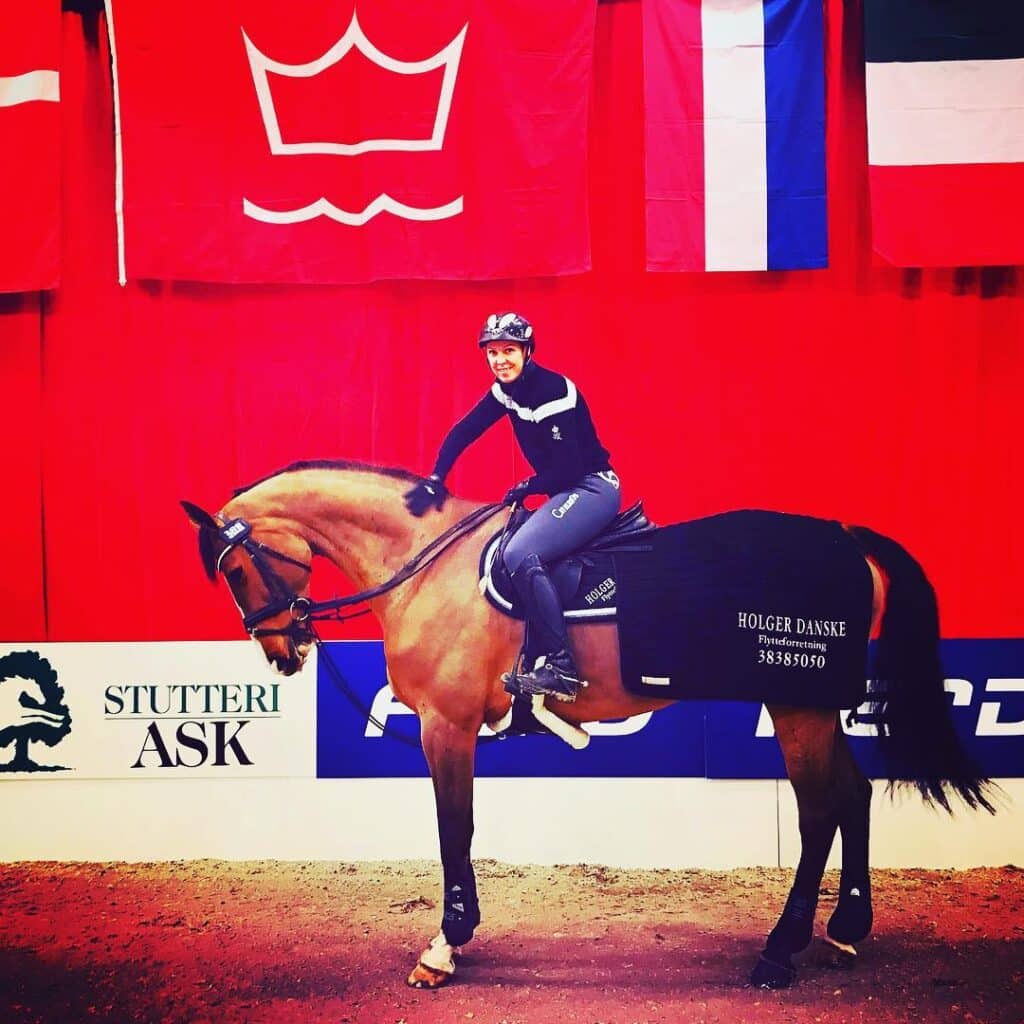 Lykke Harms Toxen-Worm – Spring
My name is Lykke.
I am an amateur rider and my best horse Carmiro has fulfilled all my dreams in jumping, as a youngster we participated in the finals of the 5 year old championship and the Scandinavian open at Falsterbo. Time has since offered plenty of great conferences and placements up medium. In addition, I have several good young horses on the way in the sport.
As a trained physiotherapist, it is important to me that both my horses and I have proper equipment. I have a lot of physical work and therefore also a lot of focus on my body and especially my back and lower back.
As a show jumper, it is important that my riding trousers give me support and fit correctly, as well as allowing me good freedom of movement. The grip must be good, because especially on the young horses, it is nice to be a little extra firm. When I first got acquainted with the Cavaleros trousers, I had no doubt, these trousers were the best ever.
Their fit, lumbar support and grip are sublime and I can't wear them out, it really is win win. I am proud to represent a product I stand behind 100%.
Bennet Conn – Dressage rider
More text on the way
See more at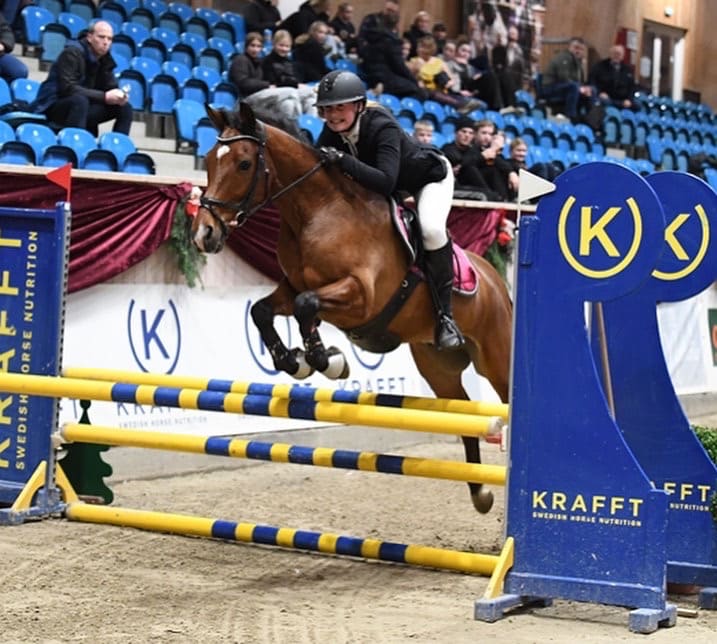 Kaya Noa Showjumper
Influencer
More text on the way